About
The Knapp-Stahler Group collaboration represents both east and west coasts teams of Marcus & Millichap's National Seniors Housing Group. With a combined 150+ years of experience, knowledge, and resources, our team can provide the most thorough and up to date information from both local, regional, and national perspectives. In addition to a long-standing history within the industry, the teams share:
Market Specialization

A concern for confidentiality

An emphasis on collaboration and teamwork
 Thorough underwriting practices

Effective communication timelines

Phenomenal proven track record
A client-first philosophy

A focus on building long term relationships

Seamless execution in the marketing and closing of transitions
Not Bound
by Geographic Boundaries
Marcus & Millichap has been one of the leading brokerage firms in Seniors Housing for over 35 years. The firm's brokers have relevant knowledge of the industry and the ability to network with specialized agents across the country. Our National Seniors Housing Group (NSHG) provides the industry's most dynamic and effective marketplace for the acquisition and disposition of seniors housing properties. With 34 seniors housing agents in 20 offices across North America, our interconnected team fosters a culture of collaboration so that we can work together for our clients' benefit. Additionally, our agents are well-versed in the spectrum of senior housing, including senior apartments, independent living communities, assisted living and memory care communities, skilled nursing facilities, and continuing care retirement communities. This means that we can focus solely on helping our clients realize their investment goals, no matter what it takes.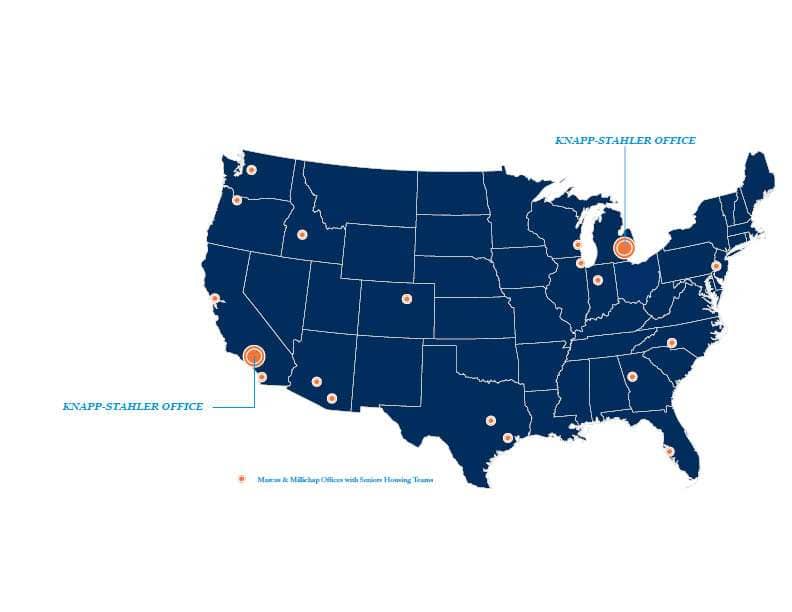 While establishing a nationwide presence, the Knapp-Stahler Group takes a consultative approach with our clients, replicating the unique brokerage strategy that has led to long-term success and a formidable reputation within the industry. Our team remains focused on developing strong relationships with potential clients while guiding them with strategies and market knowledge to achieve the optimum result.
The Knapp-Stahler Group demonstrates experience and knowledge of local markets, understanding state regulations and political trends, while continuously developing relationships with local owner/operators and other third parties. This allows us to provide the most accurate and up-to-date information to our clients. When it comes time to sell, our team can offer the best local market exposure for that opportunity. A strong regional buyer pool, along with the national exposure that Marcus & Millichap agents across the country can provide assures that your asset will receive the maximum confidential exposure leading to the highest probability for achieving your goals.
Focusing exclusively on the sale and disposition of Seniors Housing and long term care real estate, The Knapp-Stahler Group remains at the forefront of this exclusive market. For years, the team has been able to provide an elevated level of service for our clients by offering expert resources, specialized services, and absolute confidentiality. To date, we have successfully assisted our clients with over 3 billion dollars in sales and lending transactions.
Maximum Value
A proven track record of closing transactions
Marcus & Millichap closes 4.5 transactions every business hour—more than any other real estate investment brokerage firm in the nation. This leadership role gives us an edge in all aspects of the investment market, including analysis, underwriting, marketing, negotiating and financing, which are all designed to serve our clients and ensure maximum value.
Reliable Execution
Leverage our powerful platform
We don't just market properties; we make a market for each property we represent. Our unique transaction platform is specifically designed to maximize value. Our innovative communications network (MNet) allows our agents to present your property to more qualified investors than any other broker. And unlike commodity Internet listing services, our technology tools come with one-on-one relationships with investment experts from the nation's leader in real estate transactions – Marcus & Millichap.
Informed Decisions
Get insights from our investment specialists
By dedicating all of our focus, resources, and training in real estate investment services, we're able to offer you the industry's largest and most specialized team of experts. Our ability to translate market trends into market intelligence enables you to make decisions with confidence. Across all local markets and investment property types, no one can match our knowledge and specialization.
Memberships
and Affiliations